An 11-mo-old boy from Tulsa, OK., a 20-mo-old girl from Camarillo, CA and a 2-yr-old boy from Barrington, Ill. died recently after climbing on or up an open drawer on a dresser, causing the dresser to fall and entrap the child between the furniture and the floor.
The two dressers pictured were involved in the deaths of those young children.  They were recalled today by the Consumer Products Safety Commission.  The one on the left was made in Canada and the one below was made in Taiwan.
The recall notices instruct owners not to use them until they are retrofit with a kit from the manufacturers that attaches the dresser to the wall.
The retrofit kits allow the parent to ANCHOR the furniture to the wall AND PROTECT  their child from furniture tipping over onto them.  Even if you don't think there is a risk of furniture tipping over, buy and install low cost anchoring devices that attach the unit to the wall.  After all, what child doesn't like to climb on furniture?  Mine did.
Dressers are not the only furniture that should be anchored.  TVs and bookcases are also dangerous to the inquisitive child.  This photo shows how a large flat screen TV can be anchored to the table top. Notice how it is set far back from the front edge where a young child would be standing.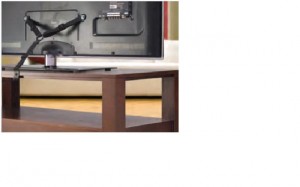 Think smart to outsmart your little ones.