Saturday was our fourth appearance at the "Rainier Summer in the Streets" festival, southeast Seattle's annual community festival. Things got off to a rousing start with a parade that included several drill teams, a line of "muscle" cars, Seattle mayoral candidates kissing babies, clowns and an "octocycle" (google it to find out what is an octocycle).

We go because there are kids to make laugh and helmets to give away. Each year we come with child safety brochures (in seven languages), our duck pond, rubber duckies and bike helmets.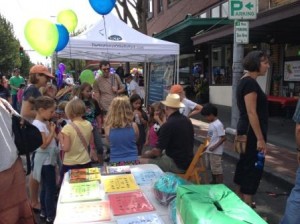 The kids pull a duck out of the pond and hand it to me. The duck "tells" me a question it has for the participant (one dad called me "the duck whisperer) and I translate the child's answer for the duck. Here I am "listening" to a duck: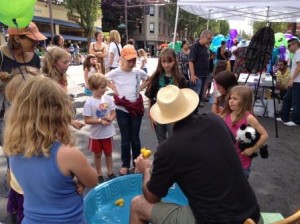 Questions range from: "the duck wants to know if you read any books this summer?" to "how often do you burp at the dinner table?" Depending on the answer (and there are no wrong answers), the participant gets to stick his or her hand in the surprise box and pull out a treat (or 3 or 4). It's a great time, with parents and kids hooting it up.

While I am enjoying myself at the duck pond, my assistant (the ever charming Mrs. Sitcov) helps parents fill out raffle cards to enter their child in our helmet give-a-way. This year there will be six winners. Next year? Hopefully more.