In Seattle, Bellevue, Renton, Spokane, Tacoma, Vancouver, Kent, all of unincorporated King County, and many other jurisdictions, all bicyclists – not just children – must wear a helmet while riding. The law is based on evidence-based medicine, much of it performed by Fredrick Rivara, M.D., the founding director of the Harborview Injury and Research Center.
Yet there is a push among many bicycle advocates to eliminate the bike helmet law in Seattle. Their theory goes something like this: if people didn't have to wear a helmet, more people would ride bikes, and if more people were riding bikes, a critical mass of cyclists will be reached and so the streets will be safer for all cyclists.
The problem with this logic is that it ignores reality. Here is a picture of my client Jordan laying on Lake City Way.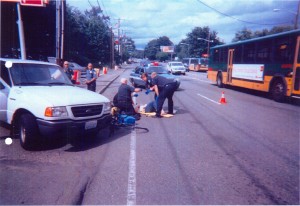 She was hit by the white pick-up truck that was pulling out of a parking lot. Jordan sustained a very serious leg fracture that was surgically repaired with screws and plates. After rehab, she returned to parenting, nursing school and life without any permanent limitations. Most importantly, her head was fine. But her helmet was toast. It does not take much imagination to think what could have happened to her had she not been wearing her helmet. So for your sake, and your family's sake, always wear a helmet when you ride.