Several years ago I received a frantic call from a mom who was at Harborview Medical Center.  Her 6‑year-old daughter Dahlia was in the ICU after being hit by an SUV. The police reported that Dahlia's helmet hit the hood of the vehicle which then carried her and then catapulted her a total of 94 feet before she landed in a clump.  Her bicycle helmet was broken into pieces.
Miraculously Dahlia's helmet saved her from a life altering injury.  Weeks later she came home from the hospital.  Slowly she began returning to do the things she enjoyed before being hit – school, playing with her friends and even speaking at her elementary school about the importance of wearing a bicycle helmet.  Dahlia's mom tells me she is completely recovered.  She loves performing in theater and thoroughly enjoys school.  Dahlia is proof that bicycle helmets save lives and reduce injuries.
Knowing the value of a bicycle helmet from Dahlia's case and other clients, for the last three years we have tried to do our part by participating in the "Summer in the Streets" festival in the Columbia City neighborhood in southeast Seattle.  Each year we have our own "Duck Pond", where children pull rubber duckies out of the water and get a prize or a treat.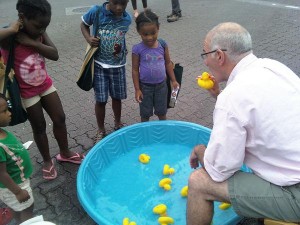 While the children are pulling out the ducks, their parents are invited to enter their children's names into a raffle to win a free bike helmet.  This year we gave five kids their own bike helmets. Here are some of the proud winners:
Nine year old Dei had a bike but never owned a helmet.  She was delighted she won:
Here is another winner, Diego, looking safe (and snappy) in his new helmet: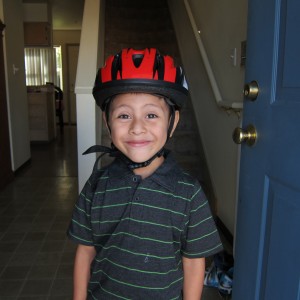 The helmet was a perfect fit and he promised to wear it whenever he rides.
While we enjoy participating in the "Summer in the Streets" festival as a way to spread the word about helmet safety, we wanted to do more. We have partnered with Cascade Bicycle Club; provided free helmets to Harborview Medical Center's Pediatric Clinic and help underwrite the cost of helmets at Bike Works, a non-profit in South Seattle dedicated to empowering young people through bicycle programs that promote leadership, responsibility and community. We hope that our efforts will help reduce the numbers of children who sustain head injuries while riding bikes.